OnBase Information
What is OnBase
UNM Enrollment Management (EM) maintains a document and content management system called OnBase. OnBase automates Enrollment Management processes, scans, and manages student documentation in one secure location and provides capability for electronic signature, online forms and automated workflow processes. OnBase makes student data accessible to users whenever it is needed from both a web client and desktop client.
---
OnBase allows UNM Departments to:
∙ Access and search for Documents:
Easy to use interface to search for student documentation. Transaction history and actions history recorded and easily accessible for every document within OnBase.
∙ Customer Service Improvement:
Allows customers, departments and students to complete forms online and make requests online directly to a workflow. Allows emailed delivery of forms for signature and completion by recipient.
∙ Online forms and signatures:
Customizable online forms for student interaction, completion and signatures. Inter-departmental communication through online forms and requests.
∙ Collaboration among staff:
Securely share content and collaborate on processes and documents. Provide transparent accountability through workflows for staff to collaborate and assign work.
∙ Scanning and Document Import:
Scan paper documents or import electronic files. Easily index with student data to allow for immediate access to electronic file.
∙ Process Automation:
Workflows allow staff to automate routing of common functions; essentially routing a document through all necessary steps for completion and/or signature.
∙ Flexible option to share content:
Flexible distribution options including e-mail, print, and archiving, Flexible security options on both templates and final documents.
∙ Retention and Records Management:
Minimize risk and support compliance by securely storing, protecting and destroying information in accordance with applicable regulations.
---
Who uses OnBase?
Staff - Currently OnBase has 300+ users that use a combination of web and desktop versions of OnBase.

Students, Parents, Faculty and UNM Departments all interact with OnBase through various online forms for multiple UNM Departments including UNM Admissions, Financial Aid, Records and Registration, Global Education Office Veteran's Resource Center and more.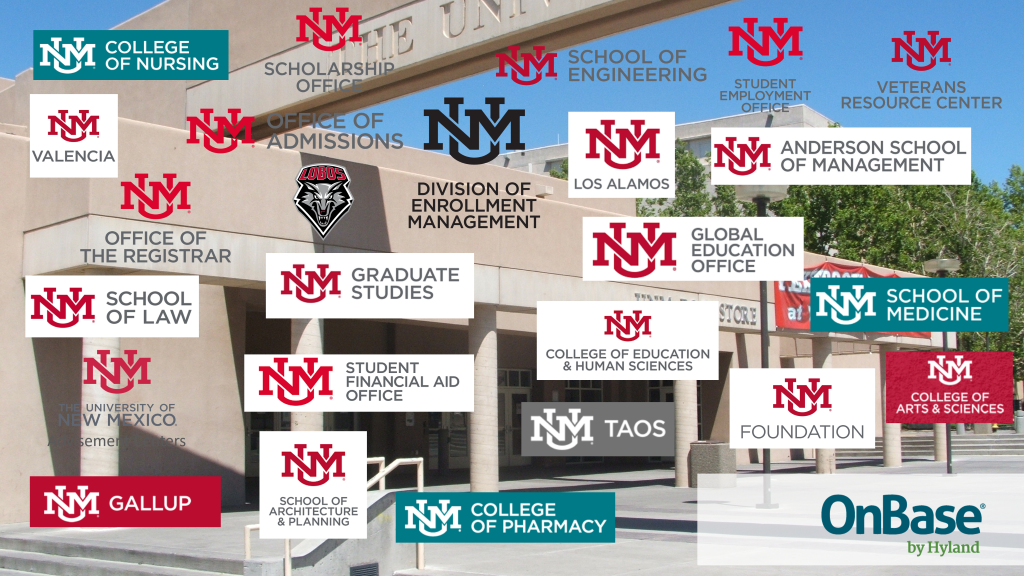 ---
Why OnBase?
Maintain copies of your most critical business documents in a high-capacity, high-availability electronic content repository
Intelligently manage records throughout their entire lifecycle—from inception to management to archiving to destruction
Easily share information through a solution that supports all aspects of electronic document processing with common software
Data can flow across the various organizations to promote efficient and consistent business processes
Easy to use, easy to implement, easy to manage
---
How do I get access to OnBase
Please see our FAQ's for new employees within EM or other departments currently licensed to use OnBase.
---
Support and FAQ
OnBase is currently only utilized by the Division of Enrollment Management and academic departments who collaborate with the division to fulfill student focused administrative processes. Access is granted through the Banner Authorization Request system and maintained by Enrollment Management IT. For technical support please see the links below.

Onbase should only be used on a universty owned workstation.
---
Support Pages
---
Common FAQ
Onbase Technical Information
OnBase is currently an on-premise solution offering the following modules.
Web Client
Unity Client
Document Import Processor
Ad-Hoc Scanning
Unity Forms
E-Forms
Advanced Capture
Workflow
WebServer
---
Upgrade Information
The University is currently implementing OnBase Foundations EP3 as of December 2020. Please continue to visit this page for updates on future upgrades.
Future Upgrade Project: Foundations EP 5 slated for Fall 2021.